Jeff Milam, Owner / Qualifying Broker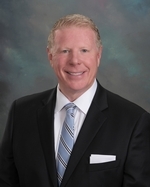 (770) 228-7653
(770) 228-3380 fax
(404) 456-4228 cell phone

[email protected]
416 E. Taylor St.
Griffin GA, 30223
Receive Email Alerts from Me
Jeff Milam
Owner / Qualifying Broker
Jeff Milam acquired Ann Imes Imes & Associates, Realtors in Griffin, Ga. in 2018. His business venture is motivated by unique growth performance in the local residential real estate market, long-standing company history of leading area competition, plus the firm's dedicated team of top producing agents. As Ann Imes & Associates and it's agents traditionally continue success through establishing earned trust with clients and important community relationships, Jeff's implementation of enhanced local and online branding, up-to-date technology and tools, and other initiatives are set to even better serve buyers and sellers of local real estate while ensuring a vision of strength and longevity in the market.
For 30+ years, Jeff has been actively engaged in both residential and commercial real estate. He owns more than 80 single family residential and commercial properties and duplexes throughout South Metro Atlanta. His current portfolio includes single family homes & duplexes, office space, commercial space, laundromats & other free-standing retail. Additionally, Jeff is active in rehabbing residential homes throughout the Atlanta market. Jeff has also been successful in purchasing and selling many residential properties across Georgia's Piedmont region that includes Griffin/Spalding County and surrounding areas. He is an active member of The Heart of Georgia Board of Realtors and a member of the GA MLS and FMLS. Locally and Nationally, Jeff has aptly represented commercial retailers with their site selection programs. He has leased regional malls, power centers and strip centers containing in excess of 8 million square feet of gross leasable area. He exclusively represents American Signature Furniture and Value City Furniture. Some of the other national retailers he has completed transactions with include Designer Shoe Warehouse (DSW), TJ Maxx, Marshalls, Homes Goods, Best Buy, Hobby Lobby, Bed Bath & Beyond, Ross stores and many others.
Over his 30+ year career, Jeff has had transactions resulting in over 18 million square feet of retail lease transactions and more than $250 Million in retail shopping center sales. Jeff is also a member of the International Council of Shopping Centers (ICSC). Jeff is excited to use insight from his diverse real estate transaction experiences to best support his team of agents and company clients. As Owner and Qualifying Broker of Ann Imes & Associates, Realtors: Griffin, Georgia's Top Real Estate Firm, Jeff is committed to the promising future of the company and leading the charge in local real estate.